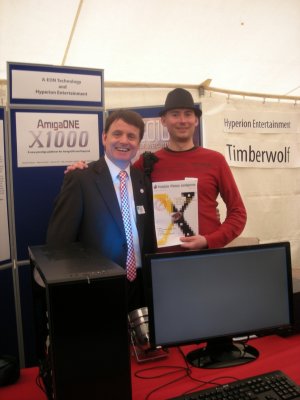 Interview with Trevor Dickinson conducted exclusively for PPA on 19.06.2010 at Vintage Computer Festival in Betchley, near London by Nicholas and Richard Piotrowski.
Nicholas & Richard: When will Amiga X1000 be available to buy?
Trevor Dickinson: Beta testers would be able to buy within 6-10 weeks, but the commercial version will be available after beta testers are happy that the machine works. The delivery is on 10-12 weeks from order. We want commercial system before Christmas. At the beginning we plan batch of 250.
Nicholas & Richard: What the net price would be?
Trevor Dickinson: It's a very difficult question. We want the price to be the lowest possible, but it's expensive system. Just the CPU is 400-450 euro and there are fluctuations of currency (for CPUs and many components we pay in dollars). The price probably will be above £1500.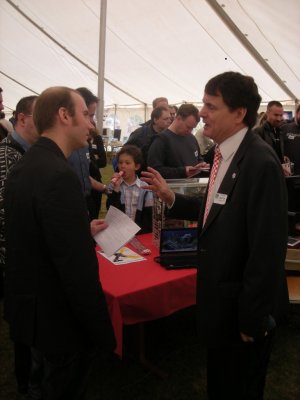 Nicholas & Richard: Who should we contact to resell Amiga X1000?
Trevor Dickinson: We already have some Polish distributors to come to us. AmigaKit is the primary distributor of A-EON. If you contact us (e.g. via email) we will put you in touch with AmigaKit.
Nicholas & Richard: What processor will be in Amiga X1000?
Trevor Dickinson: It's about the 50th time I've been asked today. We're not releasing the information yet as we don't want to cause any embarrassment to our source of supply. Beta testers will find out very quickly, but they won't be able to release the information as they are bound by NDA agreement. Probably most of you already guessed what processor will be in X1000.
Nicholas & Richard: How many computers you need to sell in order to call it success and to continue development of the X1000 series?
Trevor Dickinson: Myself as Amiga real enthusiast I will be happy if we break even. At the moment the investment already cost 200 000 euro with no money coming in.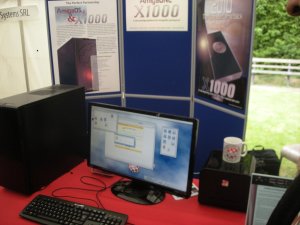 Nicholas & Richard: Will be there only one core of PPC supported during first release? When's the plan to activate the second one?
Trevor Dickinson: AmigaOS4 currently supports only one core, but the multi-core processor will work once the system can support it.
Nicholas & Richard: Do you plan a laptop version of the system?
Trevor Dickinson: I'd like to see SAM system as a laptop. Our computer is too expensive for a laptop.
Nicholas & Richard: There is a problem with lack of software for Amiga. What do you think about introducing similar solution to AppStore for AmigaOS? Affordable applications and a shop would make money too. Similar shops are getting more popular. Version for Ubuntu and Linux Mint is under way.
Trevor Dickinson: It would be great is a solution like that is created, but at the moment we do not have such plans. We know there's an issue with lack of software, that's why we port Open Office for Kids.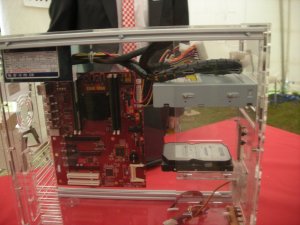 Nicholas & Richard: Are there plans to introduce lower cost Amiga?
We already have SAM. At the moment the costs of production are high, but if it's mass produced the cost will drop. In the future, it may be possible to produce x-500, which would be reduced version of x-1000 with reduced functionality. Before that we must make sure that Amiga x-1000 is the success.
Nicholas & Richard: Why A-EON decided to invest into Amiga market?
Trevor Dickinson: It's a long story, but a simple answer is that I've been Amiga enthusiast for a long time since I had one in 1987 and before that C64. I wrote series of articles to Total Amiga. I was writing those articles about history of Amiga – highs and lows, crises and successes – everything. And then I had a chance to invest and I was thinking it would be great to put Amiga back again. It's a big community around the world in England, Poland, Germany, France, Japan, even... Scotland.
Nicholas & Richard: Do you think Amiga has a chance to be as successful as Apple?
Trevor Dickinson: Success of Apple isn't computers, but iphone, ipads, etc. We won't be Apple, I personally don't like Apple. When I had a chance to choose between Apple and Commodore I chose Commodore. I have Apple, but with MorphOS installed.
Nicholas & Richard: Many thanks for the interview and we wish every success.
Trevor Dickinson: Best wishes for Amiga community in Poland.